The soft click of my camera sounds loud in the silence of the Japanese garden.
The brightly colored leaves that are slowly whirling down on the beautiful mossy ground of the garden look like living confetti at a photographer's party. The light spots of the warm light flowing through the trees, creating a joyful pattern on the soft carpet of moss.
The colorful leaves create an attractive template in the pond with the so well-known authentic red bridge. The water lilies by Monet appear in my mind. With the impressionist painter in my mind I wander on through the beautifully landscaped garden.
Musing about the meaning of beauty my gaze is drawn to the trees with their gently swaying branches. Another painting, this time a tree of Mondrian appears in my mind. I direct my gaze back to the trees. This time I try to look through the eyes of the painter. The movement of the wind suits the expressionistic style of painting, but the dark autumn colors differ too much.
Overexposure seems to be the answer. With a High-key exposure I try to catch the serene atmosphere I'm searching for.  The Brown branches show their bewildering beauty in a light green and beige and tint. A subtle movement of the camera turns the picture into a tree painting by Mondrian.
Here is a happy photographer. Satisfied with a little light in a nice colorful environment.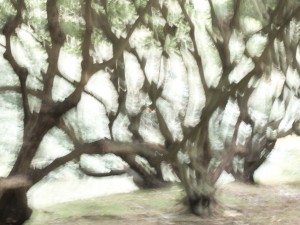 In the Netherlands are several Japanese Gardens. For example in the Hague, Naaldwijk and Den Helder.