Perhaps this is the most beautiful time of year to photograph the city.
The trees with their bare branches stand proudly in the wind. Their whimsical sculptures stick out the straight lines of the architecture. It gets even better when it starts to rain and the wet shiny streets reflect the city.
However attractive it might be to sit on my coach for the fireplace with a hot cup of chocolate milk,when it's almost four o'clock my photographic blood starts to itch. When dusk slowly spread his blanket over the city and the lights in the buildings turn on. Now the city is at its best. The warm golden light contrast with the dark blue sky. The wet pavement reflects the many lights.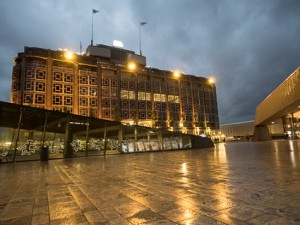 Rush hastens through my veins. Quickly my eye seeks for the right corner, the most beautiful reflection and the warmest light. I know the blue hour takes up at most ten minutes, then the enchantment is broken and the night come down on us. Still, I force myself to be calm and take a good look. Better one successful picture than ten missed opportunities.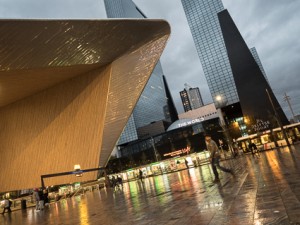 Tomorrow it will rain again and I get another change. For now, first get a cup of hot chocolate.