On a rainy evening a small group of photographers met up to shoot with neutral density filters and tried to catch some motion in a long exposure. The Erasmuspier was a little bit wet, but we found some good spots where we could keep our equipment and ourselves dry.
As the exposures ranged from 8 seconds to 8 minutes, there was enough time for the third part of organizer's motto: "shoot. share. socialize". Which we continued after the shoot, as we went for a few drinks at Obba. All-in-all a good way to spend the evening. Thanks Thomas Dral for organizing this event.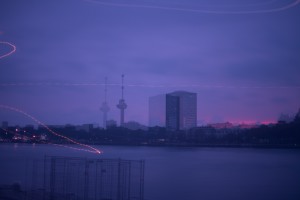 P.s. I'm not going to name and shame the only woman who was with us, especially because I think of the moment with "Bob Ross" talking about happy accidents in my mind, but this shot happened when she accidentally bumped into my tripod. Guess I'll have to name it "happy accident".